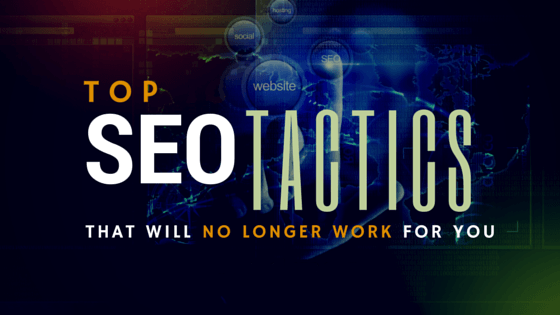 There were in past many SEO tactics that will let your ranking boost up in short time and they were useful in the past now a days tactics have changed very much. Now you have to be careful about what practice you are going to choose to bring up your ranking and what to ignore.
So here are some good strategies from past that are not going to work today or tomorrow why because Google Algos :
Seo has been always used to rank with optimizing the content of your page for a particular keyword in a website, actually Keyword density has been long dead in the past but still keyword on a page matters. Good thing is the more "focused" you kept each optimized page, the better chance you had at ranking for the key phrase you are targeting.
So previous paragraph was about how it worked in the past now about the present, as with Hummingbird update, Google has come up with ranking pages not according to the focus of keyword but on the idea that keywords are showing that means Google is looking for some good topics on the keyword and is ranking them higher.
Remember, Google has access to billions and billions of pages of content. And they have the computing power to analyze that content in order to understand what makes one page better than another. If you want to rank for "snow skis," but your content fails to say much about things that skiers find important (other than they type of ski they use), you're going to miss the mark. By a long shot.
So is the keyword focus strategy dead? No, it isn't. Here is the catch if you want to talk about Like Rayban Sunglasses then you should write more about its types and how to determine the originals and the fake one's that way "rayban" and "sunglasses" will be used many times.
In past it was all about how many links are directing to your page and many or most of the SEO's purchase links in masses to increase rankings. It wasn't out of the ordinary to hear SEOs say "I just bought $10,000 worth of links for my client." And as long as buying those links helped improve rankings, that $10,000 investment could translate into $100,000 in new revenue.
But what about this strategy now in present, is it still valid? In 2012, Google rolled out the Penguin algorithm designed to target manipulative link building practices. While links remain an important part of the search engine algorithms, paying for links as a way to manipulate the algorithm is severely penalized.